The Rainbow Slaw | Featured on the Marilyn Denis Show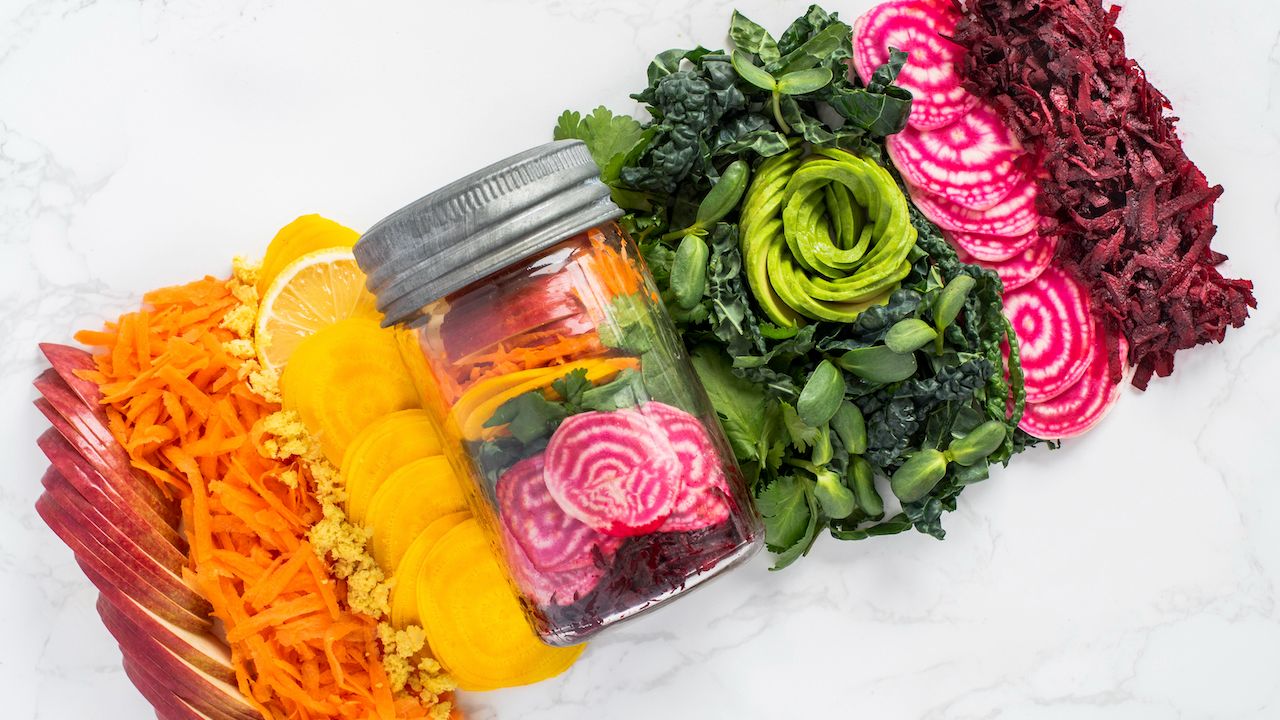 We have all heard the truism, "Eat the rainbow for health." Beyond being a feast for the eyes, every colour brings with it a nutritional strength. By eating the rainbow of foods, you are sure to ingest nature's finest multi-vitamins.
Here are some quick tips to help identify foods in the nutritional rainbow:
VITAMIN C: These foods are often red such as red peppers, berries, red cabbage, blood oranges and ruby grapefruit. It makes sense that red is the colour used to express passion. Most of these red foods feed the heart and keep you beautiful as well. Almost all red foods contain a generous amount of Vitamin C.
VITAMIN A: These foods are most often yellow and orange such as carrots, squash, pumpkin, yams, mangoes. The orange pigment, beta-carotene, converts to Vitamin A, which is important for healing the gastrointestinal tract, lungs and skin. Beta-carotene is part of the carotenoid family, which provides antioxidant protection from the free radicals that can damage cells.
VITAMIN B: These foods are most often green such as asparagus, green beans, chard, and spinach. Dark green leafy and cruciferous vegetables are among the most potent cancer-preventing foods you could possibly eat. It could be in part because they contain the greatest nutrient density per calorie of any food.
ANTI-OXIDANTS: These foods are highest in blue and purple colours such as blackberries, blueberries, Concord grapes, figs and purple cabbage. Research into the nutrient density of food has established that the darker the food, the higher the antioxidant level. All fruits and vegetables with a purple hue contain a variety of polyphenols that can reduce the inflammatory responses in the body.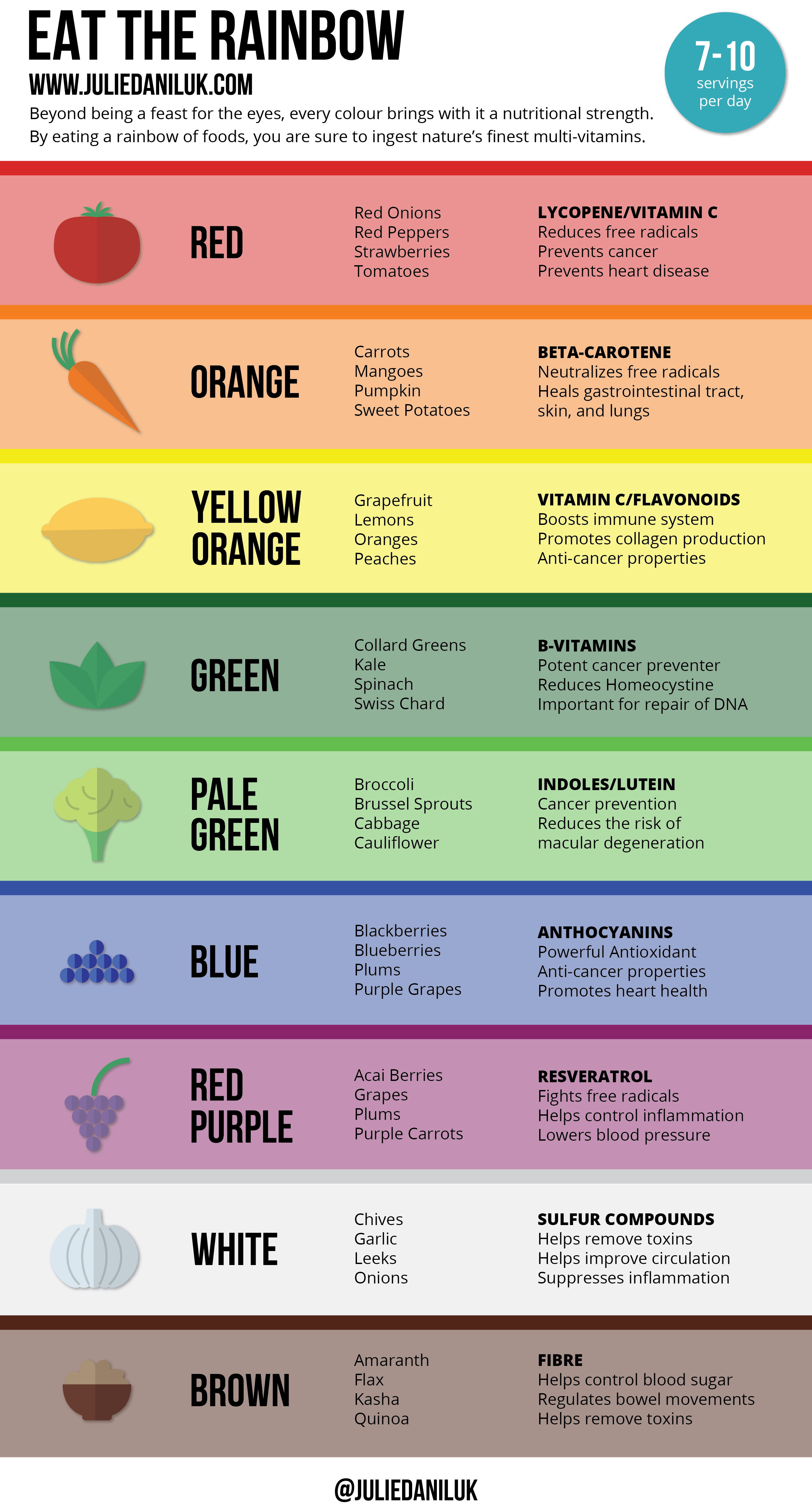 The Rainbow Slaw
This recipe is adapted from my book Becoming Sugar-Free: How to break up with inflammatory sugars and embrace a naturally sweet life. The recipe was originally called Reggae Roots Slaw on page 270.
Puréed avocado is the secret to this slaw's creamy richness. Beets are brilliant for detoxification, as they contain phytonutrients called betalains that are powerfully anti-inflammatory and assist in hormonal balance. If you don't own a food processor, a hand grater works well to prepare the slaw ingredients. The naturally occurring sugars in the fruit and beets will assist in satisfying a sweet tooth so that you are more likely to stay away from dessert.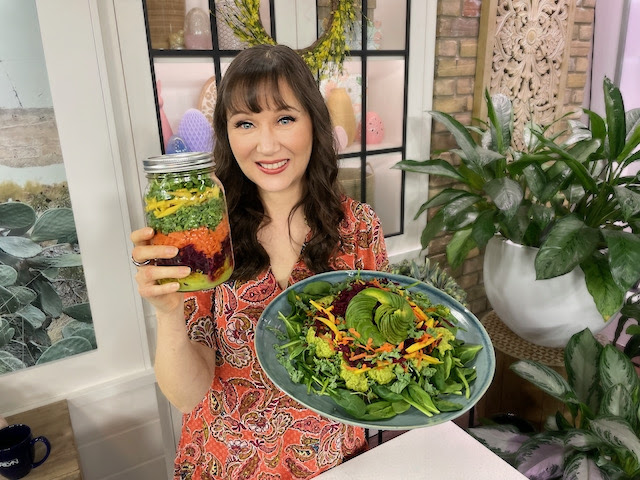 Slaw:
2 cups thinly sliced mango or apple
1 cup grated golden, candy stripe or red beets
1 cup julienned kale leaves or green cabbage, stems removed
2 cups grated carrot
1 tablespoon grated fresh ginger
1 cup chopped fresh flat-leaf parsley or cilantro
2 cups packed baby spinach or sprouts
Dressing:
3/4 cup diced ripe avocado
1/4 cup lemon juice
3 tablespoons chopped fresh chives
1/2 teaspoon unrefined pink salt
1⁄3 cup organic olive oil
Directions:
1. To make the slaw, in a large bowl, combine all ingredients, except the spinach or sprouts.
2. To make the dressing, in a high-speed blender, combine all ingredients and blend until smooth.
3. Serve on a bed of baby spinach and/or top with sprouts. You can make this at the start of the week by portioning out the rainbow ingredients in a large 1 litre mason jar. Put the dressing on the bottom with the root veggies and then the greens on the top so they stay fresh. Store the slaw in an airtight container in the fridge for up to 5 days.
4. When you are ready to serve the slaw, you can garnish with sliced avocado. You can shape it into a lovely rose shape. Click here to learn how to make an Avocado Rose.
Makes 12 servings.