Becoming Sugar-Free ~ Chippy Chocolate Cookies
These cookies are the real deal. They are chewy on the inside and crispy on the outside. You won't believe they are healthy. The alternative flours make these cookies high in fibre, unlike conventional cookies made with refined white flour. The monk fruit erythritol crystals create a crispy texture similar to that of cookies made with refined sugar but without the blood sugar spike. When combined with Sweet Potato Ice Cream (page 282), these make a fantastic ice cream sandwich.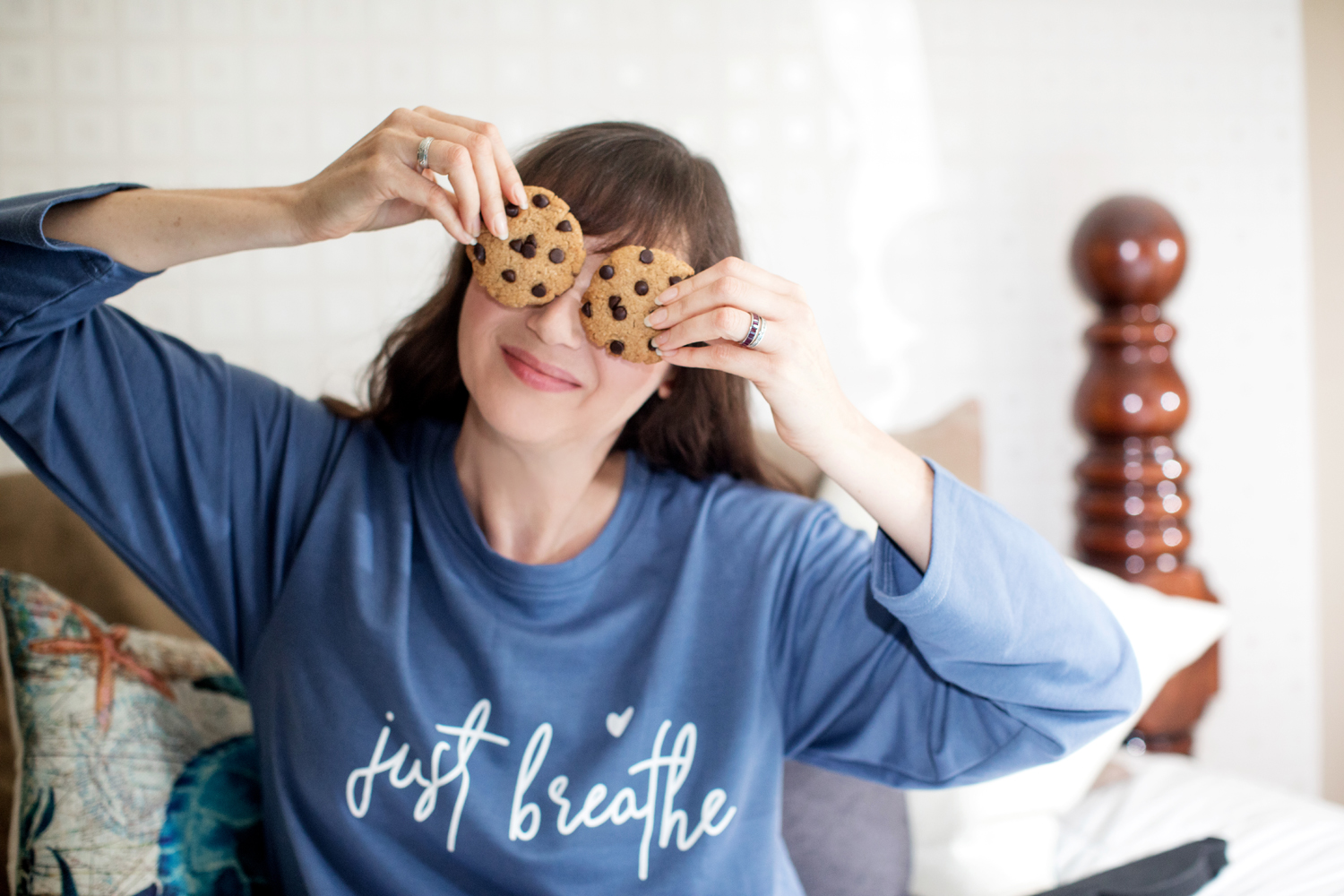 Ingredients:
1⁄3 cup coconut oil or vegan butter, room temperature (see Tip)
¾ cup monk fruit erythritol crystals or coconut sugar (see Tip)
1⁄3 cup natural nut or seed butter, room temperature
2 teaspoons pure vanilla extract
2 large eggs (or flax or chia egg; see Tip)
1 cup almond, hazelnut or sunflower seed flour (extra fine flour is best; see Tip)
1⁄3 cup coconut flour
1 teaspoon baking powder
¼ teaspoon unrefined pink salt
½ cup stevia-sweetened
chocolate chips (or ¾ cup cranberries or chopped nuts) (optional)

Directions:
1. Combine the coconut oil, monk fruit erythritol crystals and nut butter in the bowl of a stand mixer. Mix at medium speed until well combined. (Alternatively, you can use an electric hand mixer and beat the mixture in a medium bowl.)
2. Mix in the vanilla and eggs at low speed until well incorporated.
3. In a large bowl, stir together the almond flour, coconut flour, baking powder and salt.
4. Stir the dry ingredients into the wet ingredients until well combined. If there is time, place the bowl in the refrigerator for 30 minutes to firm up the dough and make it easier to roll into balls.
5. Meanwhile, preheat the oven to 350°F. Line a baking sheet or two with unbleached parchment paper.
6. Using your hands, roll the dough into 14 large or 18 small balls and arrange them on the prepared baking sheets spaced 2 inches apart. Press the cookies down lightly with the palm of your hand, then gently press the chocolate chips (if using) into the dough. Avoid adding the chocolate chips before this step because it makes the cookies crumble.
7. Bake for 12 minutes for a chewy cookie or 14 minutes for a crispier cookie (for large cookies, add 1 minute to the baking time). The cookies will be very soft but continue to cook as they cool. 8. Let cool completely on the baking sheets. Store in an airtight
container on the countertop for up to 4 days or in the freezer for up to 3 months.
Tips:
1. If you live in a hot climate, place the coconut oil in the fridge for 15 minutes to firm it to the consistency of soft butter. If you use slightly melted coconut oil, the dough will be greasy and the chocolate chips (if using) will be hard to incorporate.
2. Coconut sugar is permitted if you are on the slow breakup plan and can tolerate sucrose.
3. To make the flax or chia egg, in a small bowl, whisk together 2 tablespoons ground flaxseed or chia seeds and 5 tablespoons hot water until well combined. Set aside to soak for 10 minutes so that the flaxseed can swell and absorb the liquid.
4. Sunflower seed flour can work as a substitute but will change the flavour.
No Sugar Added Option: Use monk fruit erythritol crystals.
Vegan Option: Use flax or chia egg substitute.
Makes 14 large or 18 small cookies.
This recipe can be found in my 4th book, Becoming Sugar-Free on page 207.
Excerpted with permission from Penguin Canada from the book Becoming Sugar-Free: How to break up with inflammatory sugars and embrace a naturally sweet life by Julie Daniluk. All rights reserved.